Cloud Native
Building the Cloud Native Enterprise
Introducing the full scope of transformation required to achieve an all-Cloud digital enterprise.
Cloud Native
'Cloud Native' is the definition that has emerged to capture the software design approach intended entirely for Cloud deployment, characterized by the integrated use of containers, microservices architecture and continuous deployment models.
The objective of our ebook Building the Cloud Native Enterprise is to include and expand upon this scope, to also look at the broader considerations of adopting the technologies – The new skills and team working models that they encourage and that make best use of their capabilities.
The Cloud Native Enterprise
Writing for Enterprise Management 360 Cloud industry guru Bernard Golden describes this overall context, the role going Cloud Native plays in achieving an all-cloud digital transformation:
Operating as a cloud-native organization requires changes in IT practices, but it also requires changes in how applications are planned, designed, built, and operated, and, in a digital enterprise, that affects business units as well. Trying to implement a cloud-native transformation in isolation without support from the entire business, including the CEO, is probably not possible. In short, high-level support is a necessary foundation for building an all-cloud enterprise.
He then walks through a short but comprehensive overview of the organizational shift required to support the shift in technology.
Fundamentally this recognizes that it's about far more than simply migrating your existing IT 'as is' to the Cloud.. Everything changes, an evolution from the on-premise paradigm and all of the associated development and support procedures change with it. Monitoring tools must be updated for a much more dynamically fluid IT environment and similarly so must the maintenance procedures.
New, accelerated approaches to software development and deployment will have considerable impact downstream on the IT Service Operations team, captured in this AWS blog by Mark Schwartz previously CIO of a major US Government agency, where he notes:
"In my role as CIO of USCIS I once made the mistake of not paying enough attention to that portion of ops that lies outside of DevOps. We had a large initiative going on with about 15 agile teams. When they released code into production, they found that they needed to set up a process for handling user problems and questions, production incidents, and monitoring alerts. As the system became more complex, this burden became heavier. In a few cases, business leaders as well as teams working on other systems downstream and upstream complained that they hadn't been notified of outages that affected them."
In our blog review of Nirmata we highlight how new vendors are addressing this challenge, synthesizing ITIL procedures with DevOps practices, with other vendors such as Stackarmor identifying the same market need and positioning their technologies to address "The DevOps Gap":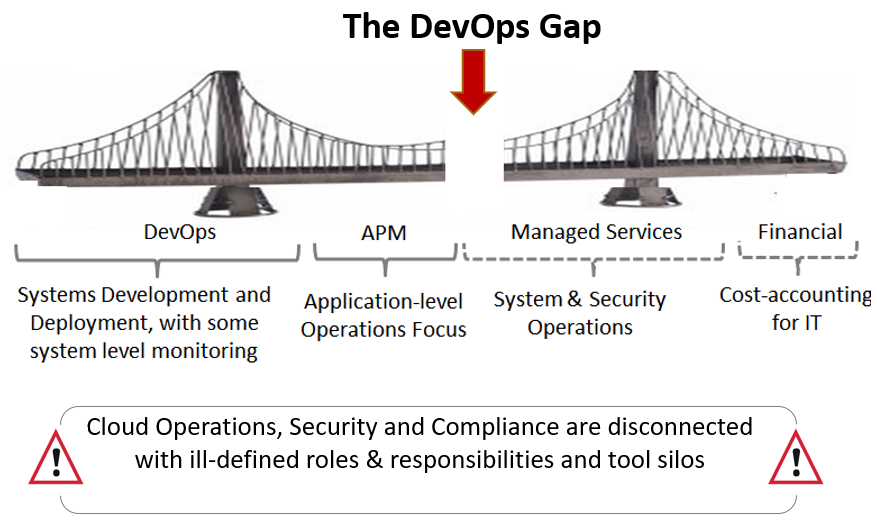 Our guide will explore each of these areas in detail.
Enterprise solutions
Another key perspective is to consider how a Cloud Native approach will yield powerful solutions for key enterprise scenarios.
The scope of activity for Cloud Native is typically defined by the software development lifecycle only – 'Enterprise Cloud Native' expands this scope to consider the full landscape of other technologies and deployment challenges a typical large enterprise organization will face, including but not limited to:
Legacy / Hybrid Cloud
Working only with pure Cloud-based services is an ideal most enterprises are a long way from reaching yet; the production environments they must work with and deploy to will also feature a variety of legacy platforms and technologies. CIO.com explores this question.
Innovative Digital Solutions
The fundamental purpose of Cloud Native, to speed the process of releasing new digital innovations, highlights the nature of this challenge. For example retailers might want to roll out cryptocurrency payments to their Point of Sale terminals.
The challenge of doing so was noted in this Scotsman article, highlighting that many enterprises will find their legacy IT environments aren't yet capable of easily integrating new technologies like Blockchain.
One keynote scenario is e-commerce. Our case study review of Comic Relief shows how the use of microservices proves invaluable in achieving massively scalable payment processing, spreading them across multicloud deployment.
Our guide will define and explore a number of similar use case solution models.